Why Biomechanics?
Biomechanics is a modern topic and offers an enormous range of interesting and challenging problems. Common to many biomechanical problems is a strong scale-dependent behaviour. It is important to analyze the behaviour of material at all scales and adjust models accordingly.
Almost all tissue in the human body contains collagen fibers. A typical example is articular cartilage, where collagen fibers distribute stress optimally for minimizing wear. The Theory of Porous Media (TPM) presents a framework for handling these, as well as other typical properties of biological material. Combining this framwork with the medical knowledge of research partners offers deep insight into vital biological processes in the human body.
Head of Computational Biomechanics Group, Researcher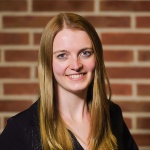 Lena Lambers
Dr.-Ing.
Head of Computational Biomechanics Group, Researcher